I've fallen behind on reviewing beer books lately, so I have four new ones piled up that I need to tell you about.
First, there's
Shakespeare's Pub: A Barstool History of London As Seen Through the Windows of Its Oldest Pub - The George Inn
by Pete Brown. I have reviewed Brown's previous books, most recently his
Hops and Glory
While that book centered around India Pale Ale, this one focuses on the George Inn, located in the Southwark neighborhood of London, a short walk from the site of the historic Globe theater. Chaucer, Shakespeare, Dickens-- they all drank at the George at some point in the last six centuries. As you'd expect from Brown, it's very well written, though the focus is less on beer than it is on the evolution of the pubs and drinking in general.
The Search for the Perfect Pub
by Paul Moody and Robin Turner. The book is a meditation on what makes for a great pub, framed by George Orwell's classic 1949 essay "The Moon Under Water", describing a perfect but -sadly- fictional pub of that name. The authors travel around Britain, visiting various pubs and interviewing their denizens, trying to establish a composite vision of the "perfect" pub. It reminded me a great deal of
The Longest Crawl
by Ian Marchant that I reviewed on 6/28/2012. Either book is an interesting look at what makes the British pubs so unique and special.
Beer, Food, and Flavor: A Guide to Tasting, Pairing, and the Culture of Craft Beer
by Schuyler Schultz. The author is a chef who has designed and prepared many gourmet dinners, pairing delicious dishes with exceptional beers. The book is a lovely edition, printed on high quality paper and containing numerous photographs and reproductions of brewery logos and beer labels. If you have an friend who is a serious foodie, whether or not they are into craft beer, this book would make an excellent gift.
Let Me Tell You About Beer: A Beginner's Guide to All Things Brewed
. This is another book from Britain, where the author is a leading beer expert and respected international beer judge. As the title suggests, this book assumes zero beer knowledge on the part of the reader, and does an excellent job of conveying the important concepts involved in enjoying craft beer and pairing it with good food. It is lavishly illustrated, with colorful pictures, labels, or graphics on almost every page. I found the writing style to be very approachable, and it was refreshing to see craft beer presented from a female perspective. Too often, beer books seem to be written from a solely masculine point of view. Plenty of ladies enjoy craft beer and it's heartening to see more and more of them taking pen in hand to write and blog about it. If you have got someone you'd like to introduce to the joys of craft beer, this book is a great choice, especially if they are female.
Besides books, I also want to review a beer kit from
Midwest Supplies
(
www.midwestsupplies.com
), an online homebrewing supply company. In the interests of full disclosure, let me state up front that I was contacted by the company and offered a free kit of my choice if I would review it. I agreed and chose their Partial Mash Mild Brown Ale Kit (SKU 565PD). When the kit arrived, I checked the contents, which were: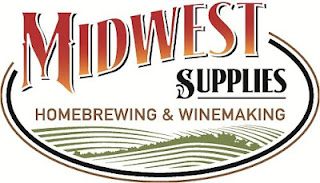 4 lbs Domestic 2-row barley malt
8 oz carapils malt
4 oz chocolate malt
4 oz caramel 60L malt
3.3 lbs Munich malt extract
1 oz Perle hop pellets
1 oz Fuggle hop pellets
packet of priming sugar
1 packet Safale S-04 dry yeast
I brewed it up last weekend. I found the instructions easy to follow and the ingredients to be of good quality. Obviously I am still weeks away from being able to tell you how the beer tastes, but if there is any serious problem with it, it would have to be the fault of my brewing technique, not the kit. The only negative I could see with this kit would be its shipping cost. The kit itself was priced at $25.99, which is quite reasonable, given what was included. Unfortunately, the shipping cost via USPS Priority Mail From Minneapolis to Alaska was $31.85. This is not a criticism of
Midwest Supplies
, obviously, but just a fact of life for those of us who want to brew on The Last Frontier.
So thanks again to
Midwest Supplies
for sending me this kit, and I will report in a month or so how the finished product turned out.
Dogfish Head-Sierra Nevada-Speiglau
IPA glass collaboration project. I have written about
Speiglau
glasses before; their stemmed pilsner glass is one of my go-to beer tasting glasses. Why their previous offerings have been in the traditional beer glass shapes, this new glass has been specially designed to accentuate the characteristics of a hoppy American-style IPA. Supposedly, there were over 50 iterations before they settled on this final design. It has the following features:
Thin, round walls to maintain proper temperature longer
A slender, bowed shape to amplify the hop nose
Wave-like ridges to aerate the beer on its way in and out of the glass
A wide mouth, allowing drinkers to comfortably nose the beer
A laser-etched logo on the bottom of the bowl to act as a nucleation site for good head formation
I purchased my glass for $9 from
Sierra Nevada's
webstore, since they were willing to ship it Priority Mail;
Dogfish Head
insists on shipping 2nd Day Air to Alaska. Since that was where I bought it, I decided it would be appropriate to test it using a
Sierra Nevada
Torpedo Extra IPA
.
In drinking out of the glass, I found it enjoyable, but hardly a quantum leap forward. It drinks less awkward than it looks, and it does seem to do a good job promoting head formation and retaining hop aromas, but so will a decent red wine glass. So, if you you like to collect glasses, this one might make a nice addition, but it's nothing you can't live and enjoy good IPAs without.
In other news,
Kenai River Brewing
has a new release on tap. Just in time for Valentine's Day, they are offering
Pomegranate Lager
, a California Lager (I'm thinking that means it's a steam beer), brewed with California pomegranates. I got to taste a sample Tuesday evening, and found the fruit flavor to be subtle but delicious. Definitely worth checking out, especially if you or your significant other are partial to fruit beers.
Kassik's Brewery
reports they have found 15 cases of their
Spiced Cream Ale
. If you want some, head over to the brewery before it's gone!
Up in Anchorage,
Midnight Sun
has released another new beer, a collaboration between Head Brewer Lee Ellis and Zoe Oakley of
Modern Dwellers Chocolate Lounge
; it's called
Modern Romance Dark Strong Chocolate Ale
. This beer is brewed with chocolate malt, roasted cacao nibs, cacao powder, brown sugar, maca powder, and Modern Dwellers' Mayan Spice blend. Draft only, get it while it lasts.
Midnight Sun
will be tapping a cask-conditioned firkin of
Modern Romance
, dosed with vanilla beans and more cacao nibs, at 5 PM on Friday, 22 February, in
The Loft
to kick off this year's
Fur Rondy
.
Midnight Sun'
s
3000 Belgian-style Barley Wine.
We were lucky enough to get a few bottles of this monster down here on the Peninsula at
Country Liquors
in Kenai, so I snagged one last Saturday and drank it on Sunday. It poured opaque with a nice, tan head that was persistent and left a nice lacing on the glass. The nose was primarily of oak, from the barrel-aging, with some malt creeping in. At 13.2% ABV, and 25 IBUS, this beer certainly comes in on the malty end of the malt-hops continuum, but I found it surprisingly dry on the palate, compared to say
MSBC'
s
Arctic Devil Barley Wine
. Don't get em wrong, it's still a big, chewy, sweet beer; it just seemed a little less so than some others. The flavor profile is everything you'd expect from a big, oaked, Belgian quadruple: malt, dark fruits, woody notes, hops purely to balance, and the alcohol barely discernible. As good as this brew is, I look forward to what several years in the cellar will do for it. Good luck finding any bottles for sale, but if you can, get as many as you can to cellar and savor.
Well, that's about it for this week. I may not be able to blog next week, due to some work commitments, but if I can't, I'll be back the following week with twice the news and reviews.
Until Next Time, Cheers!